Master of Accounting and Financial Analysis (MAFA)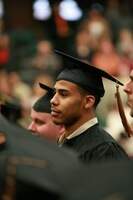 The Master of Accounting and Financial Analysis (MAFA) program is offered primarily as an evening program through Northeastern State University's campus in Broken Arrow, Oklahoma although all classes are available through electronic delivery such as online or Virtual Class Meeting using Zoom. The program is designed for students interested in pursuing careers as controllers, financial managers, financial analysts, financial advisors or public accountants. Program applicants should have an undergraduate background with a focus in either accounting or finance with sufficient exposure to other business disciplines such as business law, economics, management, marketing and management information systems.
To be professionally credentialed, students must achieve an acceptable score on a professional examination to receive the Certified Public Accountant license, Certified Management Accountant designation, or Chartered Financial Analyst® designation or other equivalent certification or specialist designation. Please talk with your faculty advisor for more information.
Program Overview
The Master of Accounting and Financial Analysis is a versatile program that will adequately prepare students for his or her chosen career path. The Master of Accounting and Financial Analysis:
Targets the financial services market. Accounting and finance disciplines are integrated in each course using a cross-functional approach.
Provides the student with an opportunity to change the direction of his or her career or expand his or her options in the area of financial services.
Offers broad coverage of financial reporting and analysis, financial management, investment analysis, management reporting and decision analysis, auditing and financial information systems and global accounting and financial analysis while offering electives that target individual career goals.
Admissions
To be considered for the Master of Accounting and Financial Analysis program, you must have:
An undergraduate major in accounting or finance with at least a 3.0 GPA. Those without a major in accounting or finance may gain admission by completing prescribed undergraduate classes. Additionally, those without a 3.0 GPA may gain admission with an acceptable GMAT score.
An approved application for graduate admission.
An official transcript of previous course work from each college or university attended.
A curriculum vitae detailing your educational background, work experience, skills, awards and achievements.
Two letters of recommendation.
Degree Requirements
To graduate from the Master of Accounting and Financial Analysis program, students must complete 30 semester hours of graduate level business course work and a capstone experience with a minimum GPA of 3.0.
For more information about degree requirements, visit the NSU Catalog.
Contact Information
Dr. Gary Freeman
Director, Master of Accounting and Financial Analysis
Office Location:
Broken Arrow Business & Technology 207
Phone: 918-449-6524
Email: freemadg@nsuok.edu
Additional Resources
Degree Available At
Transferring to NSU?
Make your transition to NSU as smooth and seamless as possible.
Visit Transfer Student Services for more information.
Career Services