Master of Business Administration - Professional Business Administration - PMBA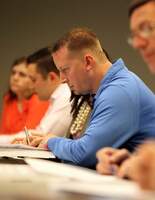 The Professional Master of Business Administration program, located on the Broken Arrow campus, is an evening only program designed for full-time working students. The nontraditional format has two blended courses on Monday nights from 5:30 to 7:00 p.m. and 7:15 to 8:45 p.m. along with online components. The program presents a workload that develops high performance knowledge and skills to give our graduates a competitive edge in the workplace.
Program Overview
The Professional Master of Business Administration degree lockstep curriculum was developed to constitute a set of both quantitative and qualitative courses for application to business problems and solutions for students with three years of work experience beyond completing an undergraduate degree. Courses within the program include:
Organizational Leadership and Conflict Management
Qualitative Methods and Decision Making
Accounting and the Manager
Creativity and Innovation
Leadership Skill Development
Domestic and Global Marketing Management
Organizational Development and Change Management
Financial Planning & Control
Corporate Strategy and Simulation
Integrative Project or Research
Admissions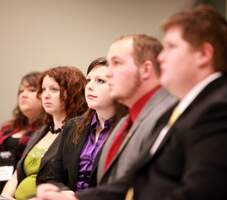 To be considered for the Professional Master of Business Administration program, you must have:
Three years work experience beyond an undergraduate degree.
A transcript with a posted bachelor's degree from an accredited college or university with a minimum overall GPA of 2.5.
A Graduate Management Admission Test (GMAT) score of at least 450 that is no more than five years old.
An approved application for graduate admission.
An official transcript of previous course work from each college or university attended.
A curriculum vitae detailing your educational background, work experience, skills, awards and achievements.
Two letters of recommendation.
Degree Requirements
To graduate from the Professional Master of Business Administration program, students must complete 30 credit hours of graduate level business course work with a minimum GPA of 3.0. Students within the program typically will enroll in 6 hours per semester for 5 consecutive semesters.
For more information about degree requirements, visit the NSU Catalog.
Contact Information
Dr. Sandra Edwards
Director, Business & Technology Graduate Studies

Office Location:
Broken Arrow Business & Technology 118
Phone: 918-449-6542
Email: edwar001@nsuok.edu