Bachelor of Business Administration in Management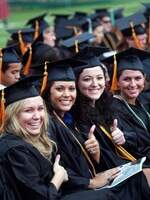 Management is one of the most challenging and rewarding career fields in the business world. Management is the force responsible for directing organizations towards goals or objectives. The need for well-trained and competent managers to lead and direct organizations is well-recognized. The Management major at Northeastern State University prepares you for leadership careers as managers in a variety of organizations. Our program's goals are the development of competencies in the theories and practice of management. Behavioral components focus on the team and its members and the importance of human relations in enabling the organization to meet its objectives. Decision science introduces many of the quantitative tools so important in the modern business environment. Computer applications and examples of quantitative problem solving play an important part in this aspect of the program. Strategic management focuses on the long-range survival of the organization within a changing environment.
The Bachelor of Business Administration degree in Management offers the student a choice of three areas of emphasis - General Management, Human Resource Management, or Entrepreneurship.
For more information about degree requirements, visit the NSU catalog.
Degree Available At
Tahlequah
Broken Arrow
Online
Transferring to NSU?
Make your transition to NSU as smooth and seamless as possible.
Visit Transfer Student Services for more information.
Career Services
General Emphasis
You may anticipate careers in management that include a wide variety of industries, organizations and settings. The General Management emphasis offers you greater flexibility to choose from among the management elective courses and build a program that suits your specific career objectives
Human Resource Emphasis
The need for ever greater productivity makes Human Resource Management a key function in all types of organizations. Professional positions in HRM are found in the areas of compensation and benefits, training, employee selection, and labor relations. The Human Resource emphasis prepares the student for a career in this growing field.