Undergraduate Degrees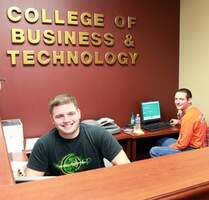 The College of Business & Technology offers programs on three different degrees. Each option will tell you a little about each and link you to a page where you can get more complete information. Please take your time and explore your options at NSU.
Bachelor of Business Administration (BBA)
The Bachelor of Business Administration degree provides students with the knowledge and skills to successfully compete for a wide variety of business careers. Choose this option to learn about what learn more about the program, including the majors offered at NSU.
The Bachelor of Science degree provides a deep learning experience in a field of study.
The Bachelor of Technology degree is designed for students who have completed a technical associate degree, the Associate of Applied Science, and now wish to continue their education with a Bachelor's degree.